Patients Information | Deformity | Genu Valgum

Deformity correction – Minimal invasive technique (Genu Valgum)

Himatsinh 16 yr old boy from Rajasthan came to COC with gross knock knees. The distance between his to feet was more that 2 feet. The cause of knock knees was rickets (vitamin D deficiency). At sixteen his bony growth was complete hence the option of epiphysiodesis was no longer valid for him. The option left for him was to cut the bone, straighten it and hold the bone till it heals in corrected position.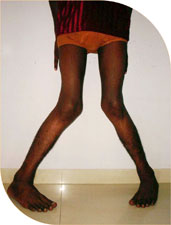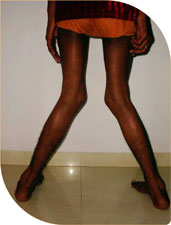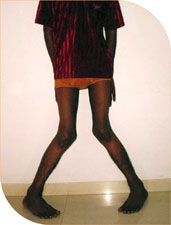 Conventionally this was done by opening a long segment of bone, predermined triangle bone piece is removed, the bone gap is closed correcting deformity and then bone is fixed with plates or nails. This requires long scars which are cosmetically unacceptable now a day.
At COC a novel technique of deformity correction is carried out which results in complete correction of deformity with very small, nearly invisible scar.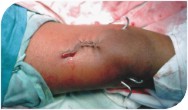 This needs proper planning with full length X ray before surgery and during surgery use of special machine called IITV. This minimal invasive technique of deformity correction is done at a very few centres. This lessens suffering of the patient and gives excellent result and speedy recovery. Himmat Singh resumes his college studies within 3 months of undergoing surgery.
Post-operation