It is very important for the parents of CP patients to be realistic about the merit and the benefit of surgery. Many times parents of CP children have unrealistic expectations from surgery. They believe that the surgery will 'cure' their child from Cerebral palsy.. There for they must be made to understand that CP is the disease of brain and surgery on limbs can
not change that fact. The surgery on muscles and bone can change the length and shape of the limbs and improve joint motions and gait pattern. Surgery will help walk child better than before but child will still have some limp which can improve with proper therapy, splinting and regular check ups.
Surgery done after proper assessment and at appropriate period can improve walking efficiency of child to great level.
>> Click to view video
This girl of nine years came all the way from Rajasthan with toe walking. She had walked on her toes since she learned to walk.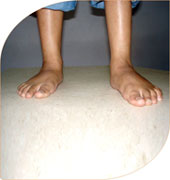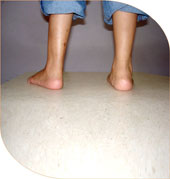 After surgery on her tight heel cord she could walk with her heel down and stopped falling during walking.
It is very important to time the surgery at appropriate period. This will avoid what is known as "birthday surgeries", meaning admitting the child every year in hospital for yet another muscle or bone surgery. Recent trend is to list all the muscles and bony surgeries and execute them simultaneously and it is known as SEMLS (Single Event Multilevel Surgeries).
Pre-operation
Post-operation
UL Cerebral Palsy
Surgery in upper limbs is also an important tool to help children with CP. The surgery in upper limb can be in form of muscle lengthening to weaken the spastic muscle and improve motion at the joint crossed b the muscle or muscle transfer to augment the weak muscles.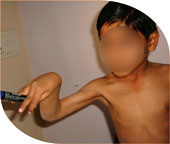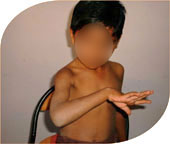 This was a seven year old boy with right sided involvement of the body. Due to spasticity in wrist muscles he could not hold any thing in his right hand properly.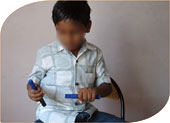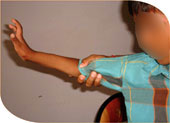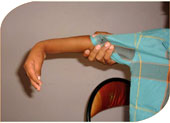 After tendon transfer surgery he could use right hand very well and could lift glass of water and could put biscuits in mouth easily.